LIDO DI SAVIO
Disponibile per videochiamata! Arrivata per voi, esuberante trans, da vera follia con preliminari virtuali anche per i più esigenti, con un'emozione grossa...Videochiamami per provare tutto il piacere virtuale con me!
LIDO DI SAVIO
Available for video call! Arrived for you, exuberant trans, from real madness with virtual foreplay even for the most demanding, with a big emotion... Call me to try all the virtual pleasure with me!
LIDO DI SAVIO
Disponible para videollamada! Llegó para ti, trans exuberante, de locura real con juegos previos virtuales incluso para los más exigentes, con una gran emoción... ¡Llámame para probar todo el placer virtual conmigo!
LIDO DI SAVIO
Disponível para vídeo chamada! Chegou para você, exuberante trans, de verdadeira loucura com preliminares virtuais, mesmo para os mais exigentes, com uma grande emoção... Ligue-me para experimentar todo o prazer virtual comigo!
LIDO DI SAVIO
Disponible pour les appels vidéo! Arrivé pour vous, trans exubérante, de la vraie folie avec des préliminaires virtuels même pour les plus exigeants, avec une grosse émotion... Appelez-moi pour essayer tout le plaisir virtuel avec moi!
LIDO DI SAVIO
Verfügbar für Videoanrufe! Für Sie angekommen, überschwänglicher Transsexueller, aus echtem Wahnsinn mit virtuellem Vorspiel, selbst für die anspruchsvollsten, mit einer großen Emotion... Rufen Sie mich an, um all das virtuelle Vergnügen mit mir zu versuchen!
La tua fantasia proibita
Vieni a trasgredire insieme a me non vorrai più farne a meno!
Vedi la Fotogallery
---
Mi piace andare al mare e fare lunghe passeggiate in riva al mare sia da sola che in compagnia...fare shopping e vedere tutto ciò che fa tendenza...
Il mio biglietto da visita Virtuale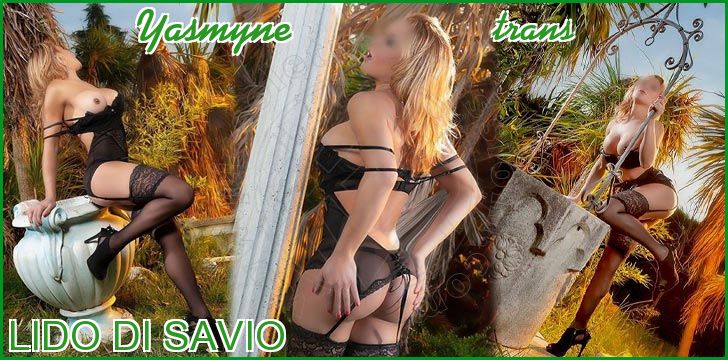 Il mio biglietto da visita