BERGAMO
Novità assoluta! Trans Viktoria. Bella trans attiva e passiva, 29 anni, sempre pronta e disponibile. Riceve in ambienti privato, pulito e discreto. Curatissima e amante dei preliminari senza tabù, completa per ogni desiderio, anche quelli più particolari, anche per principianti che vogliono…
BERGAMO
Absolute novelty! Trans Viktoria. Beautiful active and passive shemale, 29 years old, always ready and available. Receives in a private, clean and discreet environment. Well-kept and lover of foreplay without taboos, complete for every desire, even the most particular ones, even for beginners who want...
BERGAMO
¡Novedad absoluta! Trans Viktoria Hermosa trans activa y pasiva de 29 añitos, siempre lista y disponible. Recibe en un ambiente privado, limpio y discreto. Cuidada y amante de los juegos previos sin tabúes, completa para todos los deseos, incluso los más particulares, incluso para los principiantes que quieren...
BERGAMO
Novidade absoluta! Trans Viktoria. Linda travesti ativa e passiva, 29 anos, sempre pronta e disponível. Recebe em uma ambiente privado, limpo e discreta. Bem guardado e amante das preliminares sem tabus, completa para todos os desejos, mesmo os mais particulares, mesmo para iniciantes que querem...
BERGAME
Nouveauté absolue! Trans Viktoria. Belle transexuelle active et passive, 29 ans, toujours prête et disponible. Reçoit dans un environnement privé, propre et discret. Soigné et amateur de préliminaires sans tabous, complet pour toutes les envies, même les plus particulières, même pour les débutants qui veulent...
BERGAMO
Absolute Neuheit! Trans Viktoria Schöne aktive und passive Shemale, 29 Jahre alt, immer bereit und verfügbar. Empfängt in einer privaten, sauberen und diskreten Umgebung. Gepflegt und Liebhaber des Vorspiels ohne Tabus, komplett für jeden Wunsch, auch den ausgefallensten, auch für Anfänger, die...
Il mio biglietto da visita Virtuale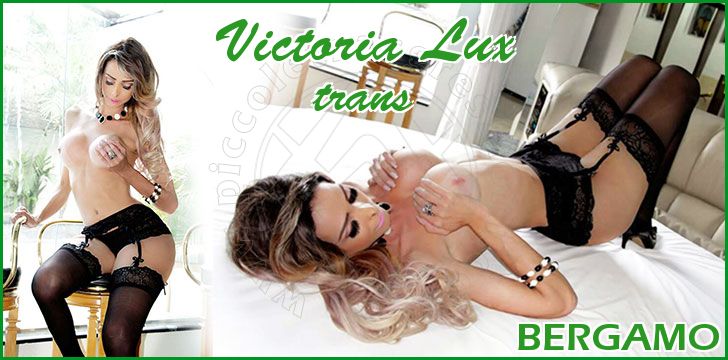 Il mio biglietto da visita